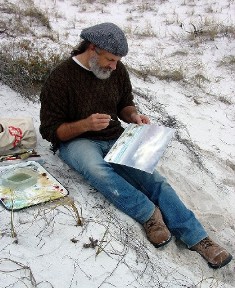 When Terry was 14 years old, living in Coronado CA, his parents began to collect art. This inspired him to pick up a brush with an "I can do that" attitude. Several months later was his first show of a lifetime of exhibits to follow.

Terry spent his first 8 years as an artist strictly as a watercolor painter, doing many shows annually throughout North West Florida during high school years and then moving to Southern California after graduation. Thornsley participated in as many as 30 shows a year during the decade that followed, winning many awards with his watercolors during this period.

From the late 1970's Thornsley annually spent time camping and "Plein Air" painting in the deserts of Palm Springs and Anza Borrego with master desert painters like Karl Albert, Darwin Duncan, Don Miles, and later with painter friends David Solomon and Saim Caglayan.

PAINTINGS - BRONZE - PUBLIC WORKS - STONE - ABOUT TERRY - HOW IT'S DONE - UPCOMING SHOWS - CONTACT