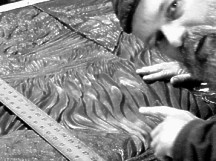 Terry Thornsley was a professional sculptor and painter who resided in Laguna Beach for over 30 years. Hundreds of his bronze, marble, stone and mixed media sculptures, as well as his exquisite paintings, are held in private collections throughout the world. Publicly, people enjoy Terry's work in a number of cities where his work is permanently displayed.

EARLY CAREER and TRAINING

At 14 Terry began his art career with his first art show in Coronado, California. The son of a U.S. navy family, he traveled extensively images throughout his youth. For many years, sketching and painting occupied the self-taught artist. Nature and movement were Terry's favorite themes and his work was exhibit in galleries beginning when he was in high school. He continued selling his art in Pensacola, FL where he graduated high school in 1976. He opened his first art studio in Yucaipa, CA and received foundry training at Mr. San Jacinto College.

In his early 20's Terry moved to Laguna Beach where he began showing his work at the Festival of the Arts, the Sawdust Art Festival and his home studio. His art medium was ever-changing including pen and inks; watercolor, oil painting, soot paintings, stone and bronze sculptures and bas reliefs. Terry's public artworks can be found along the California coast at the San Diego Airport, several places in Laguna Beach, Balboa Island, Huntington Beach, Seal Beach, Long Beach and also in Maui, Hawaii.

His acute artistic vision and natural talent allowed him to express his love of nature into lifelike forms that are appreciated by people around the world. His sculptures leave no doubt about his feelings for the sea. Marine mammals, sea birds, fish, coral and the ocean itself are recurring subjects in his carefully rendered artworks.

Terry passed away in May of 2015. His memory will live on through the magic of his art allowing us all to remember his tremendous talent.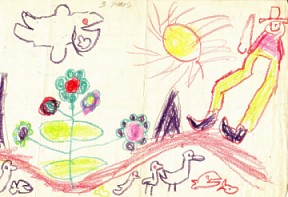 "Mom's Favorite"
One of Terry's early works...
A drawing at 3 years of age.